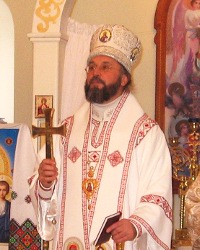 In the name of the father, the Son, the Holy Spirit. Amen.
Glory to Jesus Christ!
Today we heard in athe Epistle from Apostle Paul(1Corinthians, ²:10-18), that the community should not divide, a community which saves should not divide. Even in the early days, the apostolic days, there were some divisions in the communities, they started to choose not Jesus but His apostles and say: I follow Paul, I follow Peter, I have follow another one, I follow another one, and I follow Christ. But this should not be. For if we in one spirit, in the Holy Spirit, we love the Lord and obey according to the hierarchy: the junior obey the senior, the senior obey the elder and so on, and in general we all obey our Lord and Savior. And Paul said one more good thing that "for the word of the cross is foolishness to those who are perishing, but to us who are being saved it is the power of God".As you may notice that the demonic people do not treat the teachings of Jesus Christ seriously, they treat it as something ridiculous. So He taught that His teachings for the dead were not clear and absurd, "my word finds no place in you" (John, VIII:37). For the dead, those who do not save themselves they are dead, for demonic. For the God's children His teaching is power.
And when really believe in God, in His Angels, we feel, we feel His blissful power, we feel His love so much, that we just stew, melt in this love. We melt; we are cleansed of all evil, offences, fears, of anything that prevents each person and every soul from being happy on earth. And we want other people to understand how to be with God, that they too are happy at such a rich land which we have - the richest in Europe, however we are living the worst.
And today was also shown in Matthew 14 (Ìatthew, Õ²V: 14-22),, how Jesus fed 5000 people with five loaves and two fish, besides women and children. It is clear, then they counted only men, they did not count women and children. And if you add women and children to that number, then maybe there were about 9 or 12,000 people, which God fed by some small five loaves and two fish. So for unbelievers, for the dead, this is an absurd thing, but for the God's children it is very real thing, because this manifests His power.
You can analyze, you can try to enter into the mystical essence of these things and understand how God could feed. God can everything just to return people to salvation, to the way of enlightenment. And, of course, that here the Lord, seeing those people, wanted to feed them with bread, because they went after Him, after His spiritual word. And He said: "But seek first the kingdom of God and his righteousness, and all these things will be added to you"(Ìatthew, V²:33). They all sought, these 5,000 people the kingdom of God, they all wanted to listen not to politicians, but to the Prophet, to the Teacher from God who had come from Heavens. They all opened their hearts in that moment and all followed Jesus to listen to His words, and nothing more they wanted.
But the apostles were more materialistic people. And they saw that it might be dinner time, as they felt hunger. And they speak for these people to Jesus let them into nearest village, let them go and buy something to eat, and spend the night, when they can: who in the barn, who in some hotels. And the Lord told the apostles:"They do not need to go away; you give them something to eat!". Apostles were frightened, they said: "We have here only five loaves and two fish.". And then the Lord makes his prayer, being infinitely rich in Heavens. These loaves, and the fish began to multiply, and the apostles gave that food to everyone who wanted to eat. And all the people were satisfied, even another evangelist says that after they had eaten almost 12 baskets of bread and perhaps some of the fish were left. That is, "But seek first the kingdom of God and his righteousness, and all these things will be added to you".
Jesus is not a magician to show us the miracles for the sake of miracles. As the Jews said to Him: Well, show us a miracle, well, show us a miracle, well, show us a miracle. Although they have heard how people told them that Jesus shown miracles. People said it sincerely, earnestly, enthusiastically, with a light heart, but they did not believe them. Maybe they believed, but were so blinded by rage that did not want to believe it and accept it. Then some of the scribes and Pharisees answered him, saying, "Teacher, we wish to see a sign from you." But he answered them, "An evil and adulterous generation seeks for a sign, but no sign will be given to it except the sign of the prophet Jonah" (Matthew, 12: Õ²²:39). How can evil generation see signs? It is a sign for us, for those who love God. God will be with us, because it is His natural way of communication. Impossible becomes possible: He walks on water, He makes listen to reason to His apostles, then they believe even more in Him. He showed many signs, even brought Lazarus back to life. But despite that all, human nature worked and they denied Jesus when He was crucified when He was just belied before all. People forgot what He had done, that no soul that was on Earth, did not do those things. They forgot all good things that He made in their lives and ran away, and trembled for their skin, having locked themselves up in some barn. They trembled and said why they had gone after Him, and why they had followed Him. That is, the fear really destroys faith in people and corrupts them.
Therefore, we must be very careful with all fear that we have. If you're God's children, you cannot have fear. If you have fear, then you are the devil's children. And do not try to scare me that someone is against us. There are so many angels around us, so much Power of God, that everything is ordered in the way it is impossible to imagine. If you're God's children, you don't have fear. There is precaution, but not fear, which hat kills faith in you, which discourages you from salvation.
Seeing the living God, the apostles left Him. What to speak about others, 70 apostles, who had left earlier for they wanted again to eat bread, that He had fed them with fish again. He said: "Whoever feeds on my flesh and drinks my blood has eternal life, and I will raise him up on the last day" (John, V²:54). They did not understand these words of His; they called Him a cannibal: "This is a hard saying; who can listen to it?" (John, V²:60). Christ suffered so much because of spiritual ignorance that prevailed then in the world. It prevails today, even to a greater extent and it is more concentrated, today the world is coming to its ruin.
Thank you Lord, for Your love, for Your good, for Your blessing, we thank You that You feed us, Your people with bread. Lord, feed us, and our Ukraine. We see that a half of Ukraine is being flooded now. But Ukraine still has bread and the central regions, and Kyiv region in which we pray especially, will have bread to feed other regions. If only speculation was not engaged in government, if only villains did not rob people! Then people will have bread and will be fed. Help us, God, that this people will have the spiritual bread also. That spiritual food reaches their hearts, their understanding, that they understand where God is. He is not in politics, He is in persecutions, in slander.
"Rejoice and be glad, for your reward is great in heaven, for so they persecuted the prophets who were before you"(Matthew, V:12). It is clear, that the reward will be. However, we ask also God to help us serve to Him as apostles did. And even better than the apostles, as we must learn from their mistakes. We must not betray in difficult moments our spiritual leader, we must not betray the Lord in this, betray Jesus Christ. We must sincerely follow everything that we hear in the Holy Gospel, to what we are being inspired by the holy fathers.
May God bless us for our prayers. May God bless us with His five loaves so that we are fed and feed the other people and two fishes so that we are fed and feed the other people. God, descend upon us with the Holy Spirit, bless us, God. For this communication and for this being with you - thank you, God, glory to You, our God, glory to You.
In the name of the Father, the Son, the Holy Spirit. Amen!
Glory to Jesus Christ!
Apostle (Corinthians, 1 :10-18):
1
10 Now I exhort you, brethren, by the name of our Lord Jesus Christ, that you all agree and that there be no divisions among you, but that you be made complete in the same mind and in the same judgment.
11 For I have been informed concerning you, my brethren, by Chloe's people, that there are quarrels among you.
12 Now I mean this, that each one of you is saying, "I am of Paul," and "I of Apollos," and "I of Cephas," and "I of Christ."
13 Has Christ been divided? Paul was not crucified for you, was he? Or were you baptized in the name of Paul?
14 I thank God that I baptized none of you except Crispus and Gaius,
15 so that no one would say you were baptized in my name.
16 Now I did baptize also the household of Stephanas; beyond that, I do not know whether I baptized any other.
17 For Christ did not send me to baptize, but to preach the gospel, not in cleverness of speech, so that the cross of Christ would not be made void.
18 For the word of the cross is foolishness to those who are perishing, but to us who are being saved it is the power of God.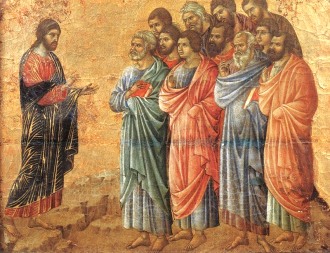 Gospel (Matthew, 14:14-22): 14
14 When He went ashore, He saw a large crowd, and felt compassion for them and healed their sick.
15 When it was evening, the disciples came to Him and said, "This place is desolate and the hour is already late; so send the crowds away, that they may go into the villages and buy food for themselves."
16 But Jesus said to them, "They do not need to go away; you give them something to eat!"
17 They said to Him, "We have here only five loaves and two fish."
18 And He said, "Bring them here to Me."
19 Ordering the people to sit down on the grass, He took the five loaves and the two fish, and looking up toward heaven, He blessed the food, and breaking the loaves He gave them to the disciples, and the disciples gave them to the crowds,
20 and they all ate and were satisfied. They picked up what was left over of the broken pieces, twelve full baskets.
21 There were about five thousand men who ate, besides women and children.
22 Immediately He made the disciples get into the boat and go ahead of Him to the other side, while He sent the crowds away.